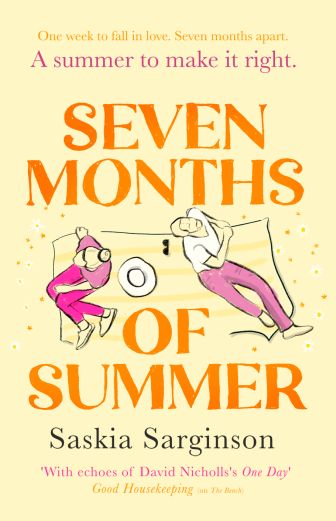 One week to fall in love. Seven months apart. A summer to make it right.
1993. When Kit meets Summer on the back packing trip of a lifetime, he falls head over heels in love, certain that what they have is much more than just a holiday romance.
On returning home, Kit is confident he'll be able to find the magical girl he met. But when he follows the clues Summer told him about her life, the person he thought he knew doesn't seem to exist.
Heartbroken that she lied to him, and with no way of contacting her, Kit moves to the Suffolk coast for a fresh start. Little does he know that Summer is living just a few miles away – and is incapable of forgetting Kit too.
But as the months pass. Kit and Summer's paths never collide. Their lives move on, and a hazy, sun-drenched summer begins.
By the time they meet, will it be too late to start again?
Reviews
Librarian: Seven Months of Summer appears to be the love story of the summer! I love a good love story and I know our readers do as well! I cannot wait to meet Kit and Summer. I always love that will they won't they meet again vibe throughout a story. What makes this one even more interesting is just how close they are too one another even if they don't know it yet! This novel is perfect to drum up summer weather vibes, romance, and how important it is to seize each day which I am so here for. I think I will be making this our book club selection for August. Very excited to share more soon. 5*
Reviewer/netgalley: I adored this read from Sarginson, the plot is quite simple but it very effective. We start with Summer and Kit meeting and falling for each other. Then dramatic events happen in their lives that pull them apart and we follow them as they learn whether they can get back together or not.
The plot is effective and kept my interest whilst also being a very emotional one. There are some very sad aspects to this, as well as happiness and laughter, Sarginson captures all the emotion perfectly and I felt everything the characters were going through.
Summer and Kit are two wonderful characters to get to know and follow on their journey. I adored both of them and seeing them together made them all the more special.
'Seven Months of Summer' is the perfect, feel good read and I loved every page of it.
Reviewer/netgalley: I adored Seven Months of Summer. It's a beautiful heart wrenching love story about finding each other and landing in the place you're meant to be.
Publishers
UK. Piatkus, Little,Brown
Germany. Droemer