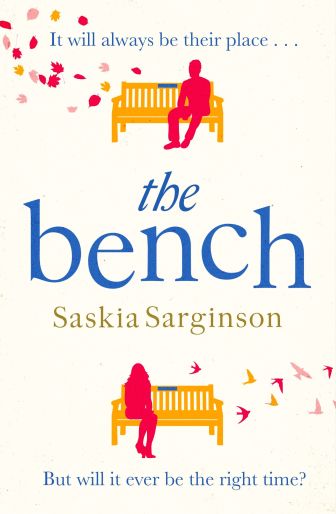 'We should have a plaque too,' he says. 'What would it say?'
I tilt my head. 'For Cat and Sam, who found each other and lost each other and found each other again,' I suggest.
It begins at the end. It begins on a bench, where a woman waits for a man.
Ten years ago, they made a pact:
To meet on this date, at this place: their bench on the Heath.
Depending on what happens now, it's either the end, or a new beginning for a love affair that's spanned three decades.
They should never have met. They should never have fallen in love. But they did, until a lie separated them for a lifetime.
Can they fix the mistake, forgive the lie, erase the years in-between?
Can what was lost ever truly be found?


REVIEWS
'With echoes of David Nicholl's One Day, this romance has just the right mix of heart-melting moments and heart-rending near misses.' Good Housekeeping Magazine
'I've been a fan of Saskia Sarginson's books since her debut, The Twins, and this is now my favourite. (Sam and Cat) fall hard for each other, but fate has other things in store in this wonderful, heart-tugging romance.' Prima magazine
'Fans of David Nicholl's One Day will love this heart-tugging read.' Hello!Magazine
'A raw, emotional book about love in all its guises.' The Sun
'A quirky and intensely romantic tearjerker.' Sunday Mirror
'A love story that spans three decades? Sign us up!' Woman's Way
'Read it if you liked One Day…Have tissues to hand.' Best
'Heartbreaking,' ebook choice, Bella
'This beautiful story is touching, relatable, and gloriously romantic.' The Press & Journal (Scotland)
'An unforgettable story about a once-in-a-lifetime love. Powerful, timeless and moving.' Holly Miller, author.
'With the page-turning pull of a suspense novel and the light touch of romance, Saskia Sarginson skilfully weaves the pain of missed moments through giddy highs and wrenching lows. The Bench is a beautiful portrait of love. Real. Complicated. Irresistible.' Jemma Wayne, author.
'A wonderful life-spanning novel following the lives of characters with real heart and depth. I didn't want it to end.' Lisa Ballantyne, author.
'A sweeping love story rich with honest, tender moments. Cat and Sam will have you rooting for them right from the very start.' Emma Rous, author.
'The Bench depicts a beautiful, very special, love story, about what can happen when life gets in the way. About how love can endure the impossible. About how some people are meant to be. Saskia Sarginson is such a talented writer. Her characters are so human, with their shortcomings and virtues, they could be us – they are us. And thus, their moments of grace are ours. I loved this book.' Cecilia Ekback, author.
'The Bench is a poignant and heart wrenching love story, tender and suspenseful and exquisitely written…This is one of the best love stories…engrossing and utterly immersive. Saskia Sarginson never disappoints.' Mary Chamberlain, author
'This story, with its unexpected twists and turns, made me variously swallow tears and then warmed my heart. A strong vein of hope runs consistently through it. The Bench feels like a book the world really needs right now. Packed full of surprises and kindness, I certainly fell head over heels in love with it.' Fiona Mitchell, author
'The Bench is a very romantic, poignant and enjoyable read. Definitely one for fans of One Day and lovers of a good romantic story. Just get those tissues ready.' Em Digs books blog.
'The novel sounded romantic and heart-wrenching. It was. I was mesmerised, both happy and sad… and always eager to know more. It was an emotional rollercoaster ride. Five stars.' Just Katherine blog.
'This is a beautiful romance with likeable characters you invest in wholeheartedly. The succession of misunderstandings, miscommunications and missed meetings stack up but never seem contrived, and the story is perfectly paced. It's an intriguing, thought-provoking, uplifting tale of love, loss, deceit and destiny. A very enjoyable read!' More About Books blog.
'Cat and Sam are at the centre of this story and their journey is heart-rending, emotional, turbulent and surprising…This is a wonderful book – emotive, raw and so very poignant. I loved it!' Books and lovely things. Blog. Instagram.
PUBLISHERS
Piatkus – UK (C'wealth)
Marabout – FRANCE
Droemer – GERMANY
Australorp – ROMANIA
Fortuna Libri – SLOVAKIA
Fortuna Libri – CZECH REPUBLIC