Suffolk, 1984
When 17 year-old Eva goes missing at sea, everyone presumes that she drowned.
Her parents' relationship is falling apart, undermined by guilt and grief. But her younger sister, Faith, refuses to consider a life without Eva; she's determined to bring her sister home alive.
Close to shore looms the shape of an island – out of bounds, mysterious, and dotted with windowless concrete huts. What nobody knows is that inside one of these huts Eva is being held captive. That she is fighting to survive – and return home.
LONG-LISTED FOR NEW ANGLE PRIZE FOR LITERATURE 2015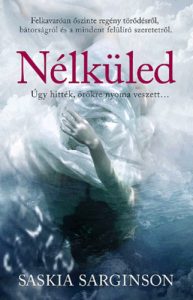 Reviews
'A haunting thriller.' And 'one of 14 best books to read this autumn.' Good Housekeeping
'This atmospheric story is very readable and its setting is beautifully evoked.' Sunday Mirror
'I was pulled in by the strong characters, intense atmosphere and intricate narrative.' Woman & Home Magazine
'Thrilling stuff.' The Bookseller
'A captivating blend of thriller, mystery and family drama.' The Sun
'An unusual and engaging read…vividly described…I would recommend.' The Bookbag
'This strong psychological thriller from British author Sarginson…vividly depicts the ways in which each person feels alone, whether in actual isolation…or emotional isolation…as she gradually reveals deeper secrets.'  Publishers Weekly, U.S.A
Without You chosen as an 'essential read' in August 2014 issue of Mother & Baby.
'An addictive story…Without You is a veritable roller-coaster ride that touched me emotionally.' Time & Leisure
'A good read and a strong sense of human connection.' Gulf News
'Another great family drama from Ms Sarginson – with a sibling relationship at the heart of it…a most terrific read and comes highly recommended from me.' Liz Loves Books blog
'A psychological thriller…also emotionally charged and about family and secrets. I can highly recommend it. Excellent.' Beadyjans Bookshelf
'A very intriguing, well plotted story…extremely satisfying.' Amazon reviewer
'I couldn't put this book down.' Goodreads reviewer
'Told from the perspective of multiple characters, superbly woven together…the story hooked me in in increasingly tightening spirals and I found that I could not put it down.' Goodreads reviewer
'Beautifully written.' Goodreads reviewer
Publishers
UK (C'wealth)
Little Brown – Piatkus
France
Marabout
Holland
Bruna
Turkey
Elf Yayinlari
US
Hachette – Redhook
Brazil
Novo Conceito
Italy
Newton Compton
Hungary

Germany

Alexandra

Luebbe