One woman. Two lives. And a lie she cannot hide from.
Eliza Bennet has the life she's always dreamed of. She's who she wants to be, and she's with the man she loves.
But Eliza is living a lie. Her real name is Klaudia Myer. And Klaudia is on the run. She's escaping from her old life, and a terrible secret buried at the heart of her family.
An intense, suspenseful story of one girl living a double life in the 1990s, set against the backdrop of World War Two.
Kobo – Best Fiction Of The Month March 2015
Shortlisted for Best Historical Read 2015 Love Stories Awards
Amazon Editor's Pick Of The Month, January 2016, U.S.A edition
The cover for the American edition of The Other Me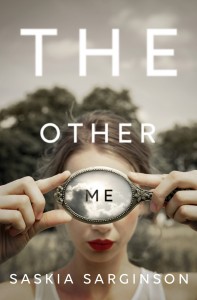 Reviews
'Storytelling at its very best – a moving tale about how guilt and shame can govern lives and how only love and generosity can change that. Gripping.'  Cecilia Ekback, author of Wolf Winter
'I raced through The Other Me in just a few short sittings. Part coming-of-age story, part consuming family history, and part gripping mystery, The Other Me deftly moves between WW2 Germany and London, nearly half a century later, until the story lines collide. This enthralling read will keep you up long into the night.' Ruth Ware, author of In A Dark, Dark Wood
'The Other Me is the kind of novel I adore, precisely because it crept up on me and I suddenly realised I was hooked and couldn't put it down. I loved the complex relationship between the brothers…The love story is wonderful. And I was rooting for Klaudia and Eliza from the beginning. It's an incredibly thought-provoking read. All in all, I loved The Other Me. It's a beautifully written, gripping novel.' Louise Walters, author of Mrs Sinclair's Suitcase.
'Gripping and spectacular, The Other Me is storytelling at its best.' Sarah Jio, New York Times Bestselling author of The Look Of Love.
'Saskia Sarginson's excellent tale is an intricate, mysterious, multi-narrative. Elegantly written by an author to watch. The Other Me is a transporting, enlightening and unforgettable read.' The Globe and Mail, Toronto
'The Other Me is a pleasure to read, with a style that moves as smoothly as an Acela train and a page-turning plot. Author Saskia Sarginson can grab her reader's attention with sharp descriptions of the smallest details, anything from a meal to an emotion.' New York Journal of Books
'Four stars.' The Sun
'Guilt and shame drive the story…flashing between the 1980's and 90's…the book's retro Brixton, Croydon and Leeds settings make this nostalgic. Read and enjoy.' The Independent
'A heartbreaking, honest and at times a flinchingly real read. This book beautifully weaves the sad truth of the past with the reality of the present.' (Goodreads)
'This book really moved me. Five stars.' Cleopatra Loves Books
'Sarginson has woven a heartbreaking and honest story that will capture you from the very first page. The Other Me is a powerful story about learning to accept who we really are.'  NZ Booklovers
'Compelling…engaging…perfectly paced. A wonderful multi-dimensional, transhistorical, dual narrative that deals with really thought-provoking and rich issues of heritage, forgiveness and identity.' WeLoveThisBook, The Bookseller
'A compelling tale.' Bella magazine
'This book was a compelling read with an intricately written plot line that made for clever reading. A historical and romantic story with a twist. The Other Me is a moving tale about family, guilt and finding your true path in life.' Handwritten Girl
'This book blew me away. It was brilliant. Compelling, emotional and heartbreaking; bringing alive the feelings and thoughts of the individuals so well they jump off the page.' BookThing
'A beautifully written complex tale about identity, family and finding yourself. A highly recommended read.' Alba in Bookland
Publishers
UK (C'wealth)
Little Brown – Piatkus
US
MacMillan – Flat Iron
France
Marabout